Meet Sylvia Donkersgoed & Family
Generations upon generations of families have fallen in love with the Canadian chicken industry! Sylvia Donkersgoed is one example of a farmer who has kept it close to home.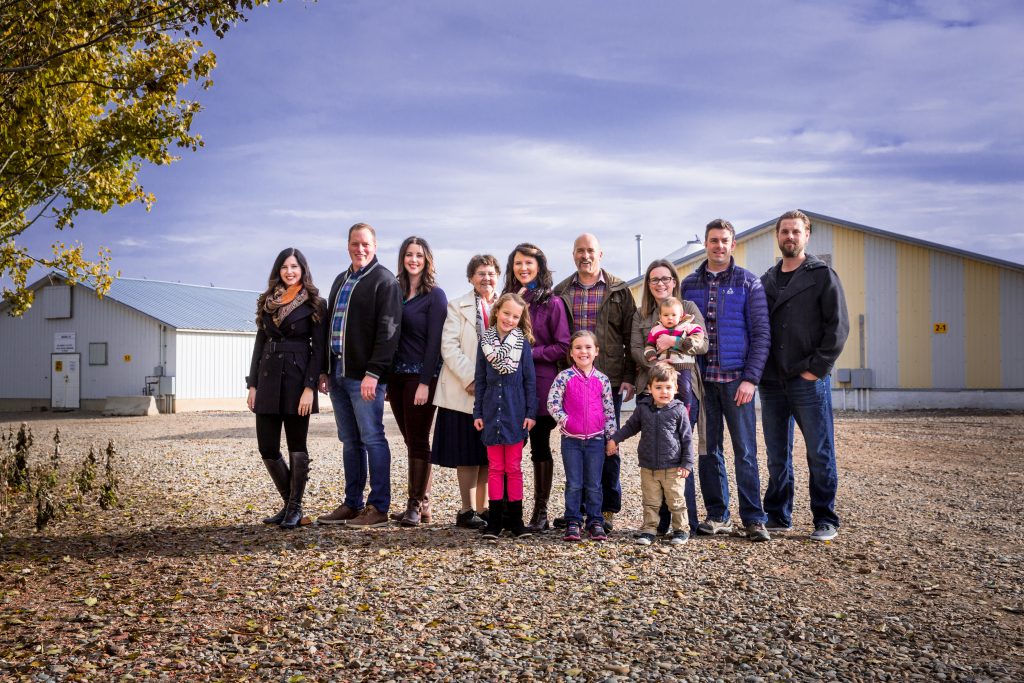 The Donkersgoed family emigrated from Holland after World War II to provide new opportunities for their children. Starting with very little, the family built a successful and diverse farm, eventually enabling the next generation to continue the legacy. Today, Sylvia feels very fortunate that she is in a position to do the same thing with her three children, Charlyn, James, and Jessica.
"I was born and raised in the industry," explains Sylvia. Years ago, along with brothers and sisters helping out on the family's mixed farm, Sylvia found herself enjoying the work and increasingly becoming more involved in the farm, with a special interest in the chicken farming side of things. Today, with her children and husband Steve, Sylvia now operates a mixed farm that includes broiler and land base operations.
Sylvia played an active role in the poultry industry, her interest being instigated through participation in the very first leadership-training seminar held by the Alberta Chicken Producers. She started as a Producer Representative, later becoming a Director and then serving as the first female Chair not only in Alberta but also in Canada . In total, Sylvia served on the board of the Alberta Chicken Producers for six years. It was important for her to hold a leadership position in a traditionally male-led industry. Although women have always played a crucial role in farming, Sylvia encourages women to be active leaders, as she believes they offer a unique perspective in a constantly evolving industry. Sylvia comments, "It's nice to see women contributing not just on the farm but also in the boardroom."
Sylvia appreciates the stability that Supply Management contributes to her operation over a free market system. Supply management has created a stable marketing environment where every link in the chain from farm gate to dinner plate is profitable. This helps ensure families are still able to produce high quality food for Canadians at arguably no extra cost to consumers. Many Canadians are employed because of these stable, profitable industries.
Sylvia has always had a passion for agriculture and her experience on the Alberta Chicken Producers served to further that passion. She encourages farmers to get involved in their industries beyond the scope of their own operations. A broader perspective will benefit both the family farm and the agricultural industry as a whole.