Alberta Farmers Give Back
Food insecurity in Alberta is the highest in the country and Alberta farmers are stepping up to ensure Albertans plates aren't left empty
EDMONTON, AB – December 6, 2022 – Arianna Scott, CEO of Food Banks Alberta joined Alberta Chicken Producers' farmers and staff to present a $30,000 cheque to Food Banks Alberta.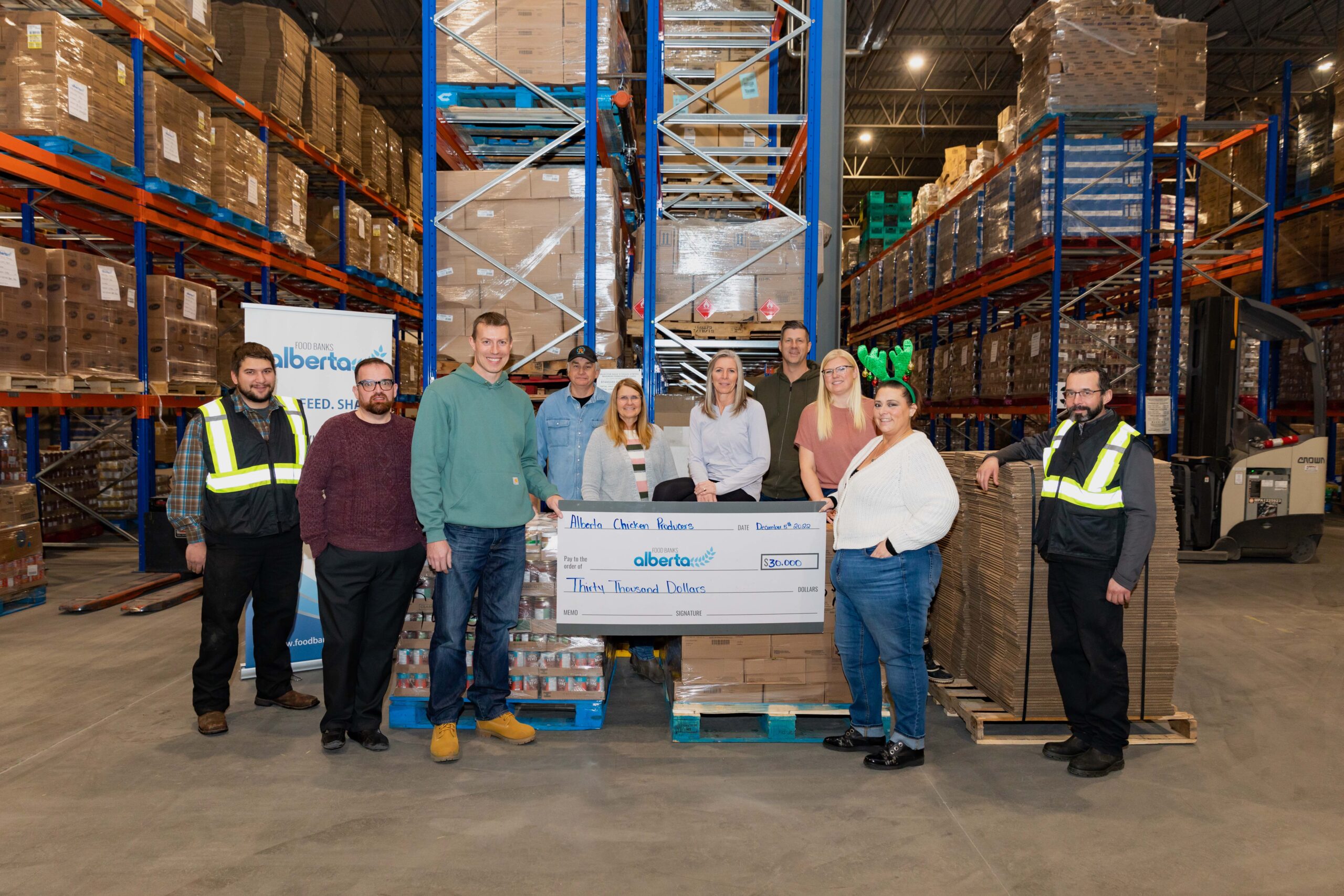 Photographed at the Food Banks Alberta Warehouse in Leduc, Alberta  
(L-R) Albert Hofer, Jason Lyver, Development Manager for Food Banks Alberta, Jeroen Velthuis, Shawn Power, Laurie Power, Tara deVries, Darren deVries, Hinke Therrien, Arianna Scott, CEO of Food Banks Alberta and Chris Hofer. Captured by Maria Leslie. 
"Alberta's chicken farming families care greatly about community and supporting those in need. One of the pillars of our corporate social responsibility Good Neighbours Program is to support building strong, healthy communities.
 Food Banks Alberta has shared with us that food security in Alberta is the highest in the country. From 2019 to 2022, there has been a 73% provincial increase in food bank use, with approximately 57,000 monthly food bank users being children. 
 Like all Albertans, we greatly care about the health and wellbeing of our families, friends, and communities. As Alberta rebounds from the challenges of the Covid-19 pandemic, we are so grateful we are able to play a small role in supporting those in need."
– David Hyink, Chair of the Alberta Chicken Producers Board of Directors
"Protein, especially meat protein like chicken, is invaluable for our food banks and food bank clientele. Protein plays a critical role in our overall health - from building bones and muscle tissue, to ensuring that we have enough energy to get through the day. Meat and animal protein in particular has become increasingly costly for individuals and families in today's economic climate; and many have to make the difficult choice to do without.
Thanks to support from Alberta's Chicken Producers, Food Banks Alberta has been able to provide over $90,000 worth of chicken protein to our member food banks since 2020, serving the 155,000-plus individuals and families who access the food bank on a monthly basis. 
Protein is a critical component of a healthy diet, particularly in children and youth. We are thankful for Alberta Chicken Producers for their ongoing support of food banks across our province. Because no Albertan should go hungry."
- Eric Motuzas, Chair of the Food Banks Alberta Board of Directors
The donation of chicken was made as part of the Alberta Chicken Producers' Good Neighbours Program. This financial contribution builds on Alberta Chicken Producers' donations in 2020 and 2021 and as of December 5, 2022, the total funds donated to assist Alberta families in need is $90,000.
Media Contacts:
Maria Leslie
Marketing and Communications Specialist
Alberta Chicken Producers 
780-465-6195
mleslie@chicken.ab.ca