December 2017 Alberta Chicken Producers Newsletter

2017 Chair Report
What a wonderful year 2017 has been for the chicken industry in Alberta. Our producers and industry partners continue to be the beneficiaries of increased growth and continue to respond to this growth by investing in new infrastructure. Of course a large part of this is due to the new allocation agreement. In November at our Edmonton Regional Meeting, we held an official "signing back into the Federal Provincial Agreement for Chicken" celebration to mark this milestone accomplishment for our industry. It is important to celebrate our success as an industry, and it was nice to see many of the individuals who played an important role in the initiation, process and conclusion of the allocation agreement in attendance to celebrate with us.
Trade, worker safety, AMU and activist activity were all active files this year and will continue to consume a considerable amount of time on the Board's agenda in the foreseeable future. Our Regional meetings provided us with an opportunity to provide you with updates on what has been happening in these areas, including where the Board has been spending its time, efforts and resources. The Board values the opportunities our Regional meetings provide to speak with producers and hear your concerns and suggestions; and, it was so good to meet with many of you at this Fall's meetings.
For all of our producers, it should be noted that there will be two Board positions available at our AGM in 2018.  This is our industry and we need skilled, committed individuals to ensure its continued success.  If you are in a position to serve, or are considering running for a position with the Board and would like more information, please feel free to call any current or former ACP Board members or myself.
On behalf of the Board, I wish each one of you a very Merry and Blessed Christmas. May it be a time of peace and joy, a time to celebrate with family, friends and loved ones; and may it bring you good health and prosperity in 2018.
Erna Ference, Chair, Alberta Chicken Producers

Regional Meetings
Thank you to all who attended this year's Regional Meetings.
We also would like to express our sincere appreciation for the generous sponsorship from Cargill Feed & Nutrition, Farm Credit Canada, BMO, Sunrise Farms, CIBC, Scotiabank, Walbern Agri Systems, TD Agricultural Services, and Scotiabank toward this year's Regional Meetings.
Strategic Plan
A copy of Alberta Chicken Producers' updated three year Strategic Plan 2016-2018 is now posted on our website: https://chicken.ab.ca/acp-strategic-plan-2016-2018-updated-oct-2017-2/
Reminder to Producers – Cold Weather Conditions
With winter upon us, we remind all chicken producers to ensure birds are dry prior to loading.
Producers must be vigilant in their barn management practices to mitigate the risks associated with barns and birds becoming wet prior to transport.  We remind producers to ensure you are balancing heat and ventilation requirements to ensure your birds are dry during load out.
Should wet conditions exist on your premise, contact your Processor immediately to provide as much time as possible to address and correct any issues prior to shipment.
To assist in maintaining optimal barn conditions, see this Management Tips for Winter Weather Conditions reference sheet.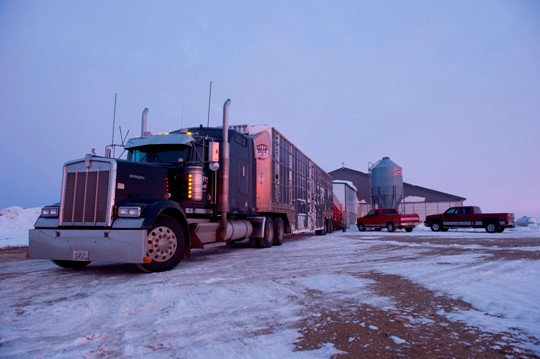 Best Practice
A friendly reminder that with the colder Alberta winter temperatures, it's always best practice to regularly test your generator systems. The potential loss of a generator failure could be devastating.
Catching & Transportation
On October 19, the Alberta Chicken Producers' Board and staff met with processors and catchers to review the Alberta Chicken Industry's Catching & Transportation Manual. We continue to keep this a living document by reviewing and updating it with industry partners regularly. A working group is currently reviewing the Manual and any changes coming out of the review will be communicated in the New Year.
Changes to Workplace Legislation for Farms
Earlier this Fall we sent information regarding the upcoming changes to Employment Standards that will come into effect on January 1, 2018.
To help inform Albertans of changes to the Employment Standards Code, The Government of Alberta will be offering webinars starting December 1, 2017 to review the changes to Employment Standards as they relate to farms and ranches.
Available webinars:
Overview of changes to Employment Standards
Employment Standards for farms and ranches
Space is limited for these webinars, and you can sign up by following this link: https://www.alberta.ca/employment-standards-webinars.aspx
Please note that multiple individuals from the same organization may participate under a single registration.
For an overview of the changes, specific to Farms and Ranches in Alberta, along with contact information should you have any questions or are unable to attend a webinar and want further information, see the Alberta Government Employment standards page.
In addition, information is now available on the Government of Alberta website that reflects legislation coming into force on January 1, 2018 for core entitlements. This information can be found at www.alberta.ca/eschanges. Information on legislation that is in force until December 31, 2017 will continue to be available at http://work.alberta.ca/employment-standards.html.
Book Your FREE AgSafe Alberta Consultation!
As Producers are aware, Donna Trottier has been working for the livestock and crop organizations over the past several months to develop farm safety training resources for producers through a $500,000 grant from the Alberta Government.
Donna and her team of three farm safety Advisors are offering free farm safety consultations until the beginning of March 2018, and we encourage all producers to take this opportunity while it lasts. To book your FREE safety consultation, please contact Donna directly: 403-348-9321 or donna@agsafeab.ca. Consultations will take as little or as long as suits your schedule and operation. For more information about the program and the three Safety Advisors, please visit www.agsafeab.ca.
Be Seen Be Safe: GeoFencing Alberta Farms to Reduce Potential Disease Spread
Your Questions Answered!
By now many of you will have heard of "Be Seen Be Safe", but may be wondering what it is, how it works, and what the potential benefit is to you. Be Seen Be Safe is a two year geofencing pilot project the Alberta Poultry Industry is running to track and stop spread of contagious poultry diseases. About 20 percent of producers have already signed on, and registration by the allied poultry industry is on the rise. Due to geofencing being a new concept for some, there have been questions and minor issues as people sign-up for the program. Here are answers to some of the questions we have been getting:
Why are we doing this?
Be Seen Be Safe is a program that electronically tracks visitors arriving and leaving your farm property. During a disease outbreak, the Board Office can notify all service providers who have visited a potentially infected property and notify the farms where those service providers subsequently visited. This information is critical to help control the spread of disease and prevent an outbreak from becoming a catastrophe. We believe that the Be Seen Be Safe program will significantly help the industry control the spread of disease, which is why we are participating in this program.
How will it work on my farm?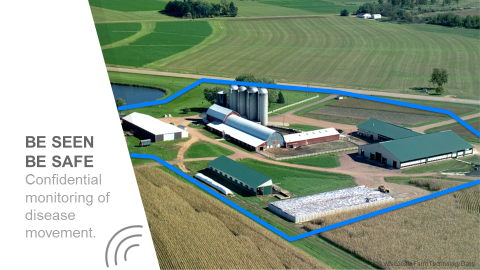 Each farm on the system will have a virtual fence placed around the property that is monitored by satellite geo-location. Once you download the Be Seen Be Safe app on your phone, an entry or exit notification occurs every time you cross an Alberta poultry industry geofence. There is no hardware required on the farm. Service providers visiting poultry farms will be asked to download a free app that will trigger a record of each farm visit.
Who should have the Be Seen Be Safe app?
We want to encourage as many service providers to download the Be Seen Be Safe app as possible. Be Seen Be Safe has met with many large poultry service suppliers to discuss the program and some have already been involved in a small pilot. Anyone who visits multiple farms is at risk of contributing to the spread of disease (feed trucks, hatchery staff, equipment installers, tradespeople, bankers, farmers, etc.). This is the pool of people that will be the most important to have in the program. It's free, it's easy to download and it only ever has to be downloaded once. For farms it will log when all visitors with the app enter and depart your site. For individuals, it logs all of the geofenced Alberta poultry farms you've visited.
What happens if my farm does not register in the program and download the app?
Once you have activated the app, property owners can receive immediate notification of visitors directly to their phone and can view and summarize their visitor records online at any time. If you don't register, visits by individuals with the app are still logged in the confidential database. You are able to access your visitor log only from the point you register. In the event of a disease, you could therefore, still be notified that your farm may have been exposed.
All Alberta poultry farms have been geofenced as part of the pilot project. Not signing-up, blocks you from accessing your logs and, if you visit other farms, potentially hampers our ability to trace the potential spread of a disease during an outbreak. In other poultry sectors on the Be Seen Be Safe program, approximately 95 percent of the farms and allied industry are on the program and many see the management benefits of being able to receive notifications and view their visitor logs.
What if I don't have a cell phone or my phone does not meet the requirements?
Your smartphone needs to support gps location services. Phones costing $500 or more will do this. Some older models costing less than this will also support it, but you will need to test it. However, anyone not able to operate the Be Seen Be Safe program on their phone can still access it on their computer. Simply go to the website (www.beseenbesafe.ca) and sign in to view your updated visitor logs.
Will running the app in the background drain my phone battery?
The Be Seen Be Safe app needs to be set up to run constantly in the background to do its' job properly. There have been some early concerns about battery drain on some phones. The app works by checking to see if you are in a geofenced area when your phones accelerometer shows you are moving. It only logs where you are when you are crossing into or out of a geofenced site. Updates to the app have been resolving the battery use concern by turning off the location checks when the phone is sitting still (at home or office), or moving at a steady, higher speed (driving). Please install the updates when they become available!
What happens after I register?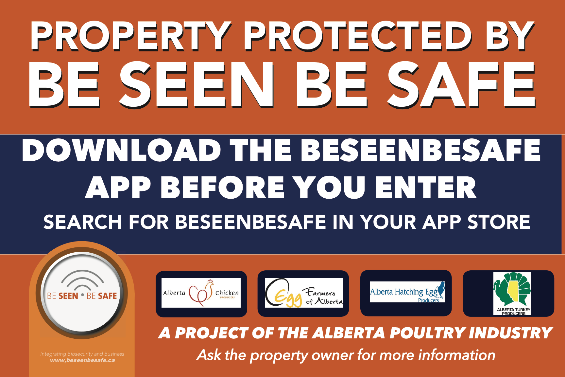 Be Seen Be Safe will contact you via email/phone to verify your contact information, farm location and whether you have other livestock on property.
You will receive brochures to give to service providers who visit your farm encouraging them to download the free app. These will be distributed at producer meetings or we can email you copies
As "connected" service providers visit your farm, you will receive notifications on your smart phone of visitors entering and exiting your property.
Please hang up the Be Seen Be Safe gate signs near the farm entrance to notify service providers about the need to have the app to register their visits. Signs will be available at producer meetings, at the board office, and from your OFFSAP/Animal Care program auditors. We are working on having a supply with other partners (nutritionists, hatcheries) to help get the signs up at the farm entrances. An unintended benefit of the signs is that because they are large enough to be easily noticed at the gate and suggest additional monitoring is occurring, they may be acting as a deterrent to unwanted visitors.
What does it look like when I get a visit or disease notification?
During a disease outbreak, we can immediately notify service providers who have been on suspected infected properties, they then can take appropriate biosecurity precautions. We will also notify farm owners who have received visits from service providers who may be inadvertently carrying the pathogens from one farm to the next. Early notification with heightened biosecurity measures is critical in mitigating the spread of disease.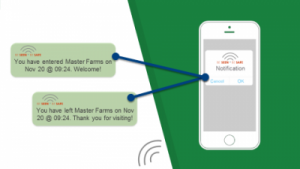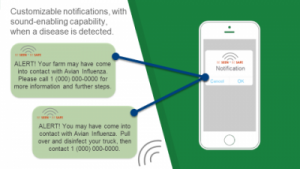 Where do I go to get registered?
For more information on Be Seen Be Safe, please visit www.beseenbesafe.ca.
Download the Be Seen Be Safe app from your app store (beseenbesafe in the Google Play Store or Be Seen Be Safe Ltd. in the App Store or Blackberry World). Once the app is downloaded, make sure to register your account and fill in your account details, such as your email and user type (Farm Owner). As a property owner, you will receive real-time notifications on your mobile device stating who has entered or exited your property. You can also view or download your visitor records at any time.
To learn more about how to use the system, please view our how-to videos on YouTube, just search Be Seen Be Safe Ltd. These instruction videos and user manuals have also been placed in the producer portal of the Alberta Chicken Producers website. If you do not have access to these sites, you can call the board office and we can mail them out to you on a memory stick.
We are having a contest!
Please make sure to pick up your Be Seen Be Safe farm sign and hang it somewhere prominently on your property. Once you have done so, snap a photo and send it to info@beseenbesafe.ca before December 31, 2017. The winner of the most unique sign placement (while still being functional!) will receive a smartphone (or something similar)!
Western Poultry Conference
The Program for the 4th Annual Western Poultry Conference is almost complete! It will take place in Red Deer February 26, the day before the AGM. While intended for all poultry producers, broiler producers will again find this year to be very well worth their time.
Presentation topics include:
Links between feed, gut health, and immunity
Impact of e. coli on production
Farm financial performance vs. production performance
Brooding
Worker safety demos
Construction choices and challenges and more!
The presentations are designed to be practical and to give you plenty to think about. The program starts strongly and then ends just as the Welcome Reception for the AGM and Tradeshow begins, so it will be easy to make a day of it.
Please keep in mind that you must register for this event independently of your registration for our AGM. Next week the final program will be up and registration details shared. You will then be able to go to the meeting website to register (www.westernpoultryconference.ca). Tickets are reduced for groups of four or more.
Please call Rob Renema at the Board office 780-488-2125, if you have any questions about the program.
Upcoming Meetings and Events
Dec. 7: AHEP - ACP Boards Meeting
Dec 8: Board Meeting
Dec. 14: ILWG Meeting
Dec. 20: AEPA Meeting
Jan. 23: Board Meeting
Jan. 24: AgSafe Alberta Society Board Meeting
Feb. 7-8: CFC Meeting
Feb. 16: Board Meeting
Feb. 26: Western Poultry Conference
Feb. 27: Annual General Meeting